The Covid-19 has forced big cities to worry about the homeless. That time is over.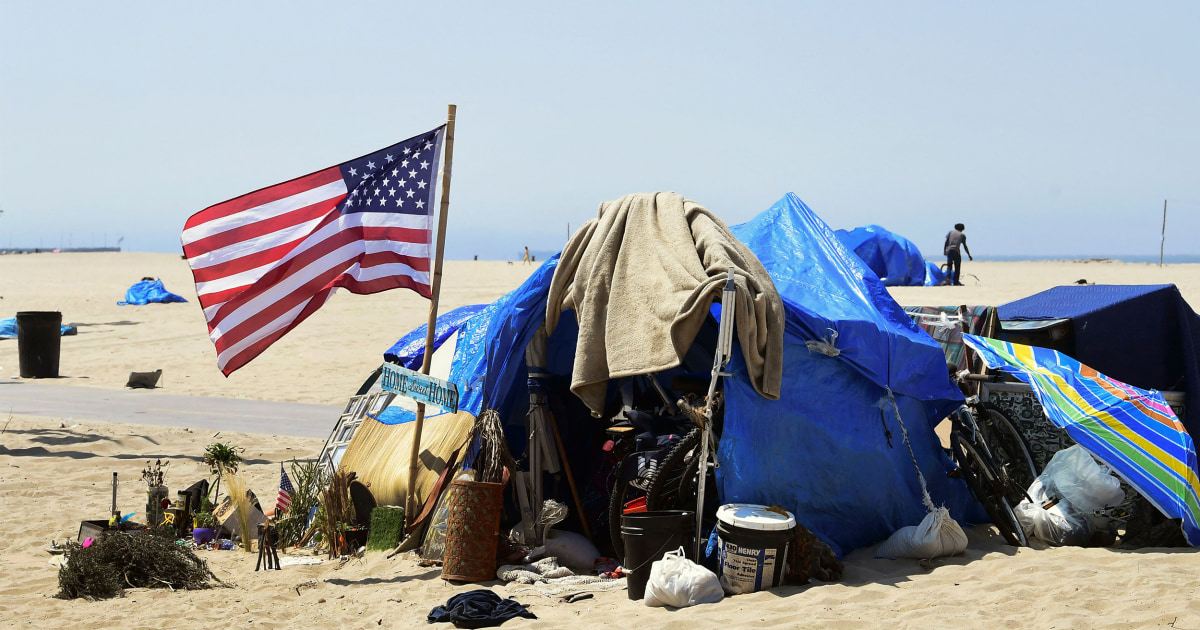 At the start of the pandemic, there was a brief moment when protecting the homeless from the virus was seen as a priority. New York City has seen overcrowded shelters as potential hot spots for Covid-19 infections. The solution was to house homeless people in empty hotels thanks to a decimated tourism industry.
Meanwhile, in Los Angeles, homelessness had increased even before the pandemic hit. In April, the city launched Project Roomkey, which also aimed to house out-of-shelter Angelenos to prevent the spread of Covid. Los Angeles has also launched a new program to provide sanitation stations to homeless settlements. These units not only provided hand washing stations to help reduce the spread of the virus, but also portable toilets – which helped address one of the most under-discussed issues facing people who are homeless.
Who do these laws and policies really serve? Homeless people or housed people?
Now LA County officials say Project Roomkey is slated to end in September, citing budget issues. The Los Angeles Times reported that the initiative never succeeded in meeting its original goal of housing 15,000 people. New York City has also started shutting down its hotel accommodation program and has already started returning people to shelters.
All of this leads to an important question: who do these laws and policies really serve – the homeless or the housed? The answer on both coasts can be seen quite clearly in the return to pre-pandemic methods to tackle homelessness. This has traditionally involved erasure, finding new ways to eliminate evidence of homelessness from city streets.
Here's how the New York Times reported the current state of affairs here in New York:
As the country's most populous city struggles to attract tourists and office workers, it has launched an aggressive campaign to drive homeless people from the streets of Manhattan.

City workers demolished one or two camps a day. Now they sometimes clean dozens of them. Since late May, teams including sanitation workers in garbage trucks, police officers and outreach workers have crisscrossed Manhattan around the clock, hitting the same spots over and over again.
Things are not getting any better in Los Angeles, where Mayor Eric Garcetti has signed a new ordinance that critics say essentially makes homelessness in the city a felony. The provision prohibits "sitting, sleeping or storing things" around parks, schools, libraries and other public facilities, according to the LA Times. It also prohibits camping on sidewalks, underpasses, highway ramps and within 1,000 feet of shelters.
The good news is that the city council will have to vote in each case to approve the removal of the settlements, and only after trying to direct people living on the streets to shelters. The bad news is that advocates say there is not enough accommodation space in the city to house the at least 41,000 homeless people in the city. So what to do with the influx of people who can neither integrate into shelters nor access permanent housing? Well, they will be liable to misdemeanor charges if they continue to camp lawlessly on the streets.
Let's pause here to note how little recent campaigns in New York and Los Angeles have focused on improving the lives of homeless people and, in fact, will leave them rather vulnerable to Covid-19. While a year ago, cities tried to prevent the pandemic from spreading among homeless populations, the current solution is to push them back into overcrowded shelters, where social distancing is impossible.
There is a cycle of stigma that permeates US homelessness policy.
The biggest difference now is the vaccines. It might not shock you to learn that there is a big disparity between housed and unhoused people when it comes to vaccination rates.
LA County Public Health said in a July 30 press release that "of those vaccinated homeless, 20,188 are fully vaccinated."
In New York, the numbers are a bit more complicated, as only people staying in a Department of Homelessness Services facility are counted when vaccinated. As of July 2, according to City Limits, just under 7,000 homeless people had been fully vaccinated, compared to 31,326 adults who had stayed in a shelter the night before.
Now compare those numbers to the 66% of fully vaccinated adults in New York City and 63% of all LA County residents aged 16 and over.
We have a situation where the population at large no longer has to fear that an epidemic among the homeless will affect them. This in turn has led to a resurgence of residents who feel far too comfortable to complain about the horror that homeless people create. Too often this includes familiar stereotypes that all homeless people are mentally ill, addicted, violent, or all three.
They're used as scapegoats for other issues as well, as we saw with New York City mayoral candidate Andrew Yang during the Democratic primary campaign this year. When asked in the final debate what he would do differently to help homeless New Yorkers, Yang chose to link the problem to attacks on Asian Americans.
"Yes, the mentally ill have rights, but you know who else has rights? We have them: the people and families of the city," Yang said. "We have the right to walk in the streets and not to fear for our safety because a mentally ill person will come after us."
He has been rightly criticized for his formulation of the problem, as the harsh reality is that almost anyone can find themselves in a state of homelessness. If you falling behind on your rent payments for whatever reason, you might find yourself kicked out – a mark that follows you even when you have the resources to find a new place to live.
This is exactly what Progressive Democrats have warned about in recent weeks as the national moratorium on evictions has expired. Billions of dollars in available rent assistance remain untapped, raising the chances that once the more limited moratorium President Joe Biden approved on Tuesday expires or is overturned by the courts, hundreds of thousands more will 'will add people in difficulty to the count. homelessness.
There is a cycle of stigma that permeates US homelessness policy. The person living in his car, or in the street, or in a shelter, often feels a deep embarrassment in front of his situation and the ostracism of the company which it causes. On the other side of the coin, those housed are embarrassed to have to walk past homeless people every day, remembering what could happen to them with a few missed paychecks. It becomes easier to portray homelessness as a personal failure – worthy of judgment and contempt – than a systemic problem.
This is partly why politicians at all levels of government have determined that voters respond well to the polls when their safety and peace of mind is prioritized as more important than the humanity of their homeless neighbors. And so, across the country in cities considered among the most liberal and progressive, elected Democrats have spent years trying to appease these voters, vowing to crack down on vagrants and homeless people seen as a plague.
It's not as if we don't know the best solution to the problem: affordable, permanent housing. This means reducing the housing crisis that is affecting many cities, especially California, at least in part thanks to zoning laws that prevent the construction of apartments or other high density units. This potentially means converting vacant properties into housing units for the homeless. It also means that cities are moving from shelter models to permanent housing types that allow residents to access the social services needed to get back on their feet. Too often, however, this doesn't play as well politically as demonizing the homeless.
This means that it is not surprising that New York and LA have made the political choices they have. It is simply disappointing that these efforts, which even at the best of times harass and dehumanize homeless people, are not just the wrong way forward to end homelessness. They are also on the verge of proving that last year was never about protecting the homeless from the novel coronavirus. It is, as always, to protect the housed people from the homeless.