Maritime Partners names a new tugboat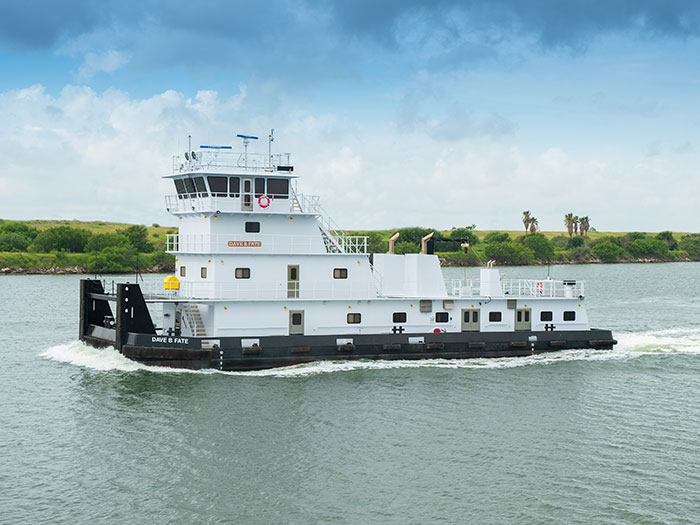 Metairie, Louisiana, based at Maritime Partners LLC, recently hosted a christening ceremony for the 3,400 hp tugboat. David B. Destin at the John Bludworth Shipyard in Corpus Christi, Texas. The vessel is named after Dave Fate, founder and CEO of Stonebriar Commercial Finance, who in 2015 provided Maritime Partners founders Austin Sperry and Bick Brooks with the financing to acquire the initial boat with which they started their rental business. maritime.
The David B. Destin measures 110 feet long by 32 feet wide and has a depth of 11 feet and a draft of 8.5 feet. The wheelhouse eye level is 34 feet.
Main propulsive power is provided by two EPA Tier 3 compliant Cummins QSK50M1s diesel engines. They spin 88 inch diameter Sound propellers, supplied by Texas Wheel Works in Port Arthur, Texas, via Reintjes gearboxes. WAF773 with internal shaft brakes supplied by Karl Senner LLC. Operating power is provided by two Cummins 99 kW generator sets.
Rio Controls & Hydraulics provided the vessel's steering system, while Rio Marine Electric provided the electrical equipment and wiring. Premium Electronics of Houston provided the navigation and communications equipment.
The deck equipment includes a pair of 65 ton Patterson deck winches supplied by Stanley Parts & Equipment Company and a 14 inch, double barrel, 100,000 pound static line hauling capstan from Schoelhorn-Albrecht Machine Company.
The ship's laminated rubber fenders were supplied by M&M Bumper Service of Bourg, Louisiana.